Solar panel installation is an excellent way of reducing your energy bills and shrinking your carbon footprint. This is something that CM Ward Ltd can help you with. We have a team of highly-qualified, fully-trained electricians and solar panel installers in Nottingham, Derby, Leicester, and many other locations across the country, who will be available to provide expert guidance and seamless workmanship.
Our team of dedicated electricians and solar panel installers are approved and both MCS and RECC-accredited to the highest possible standards. As an award-winning contracting company in Nottingham and beyond, you'll always be able to look to us at CM Ward to carry out solar panel installation for both commercial and domestic clients.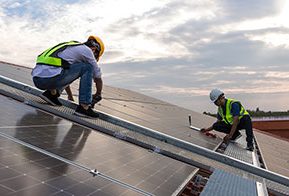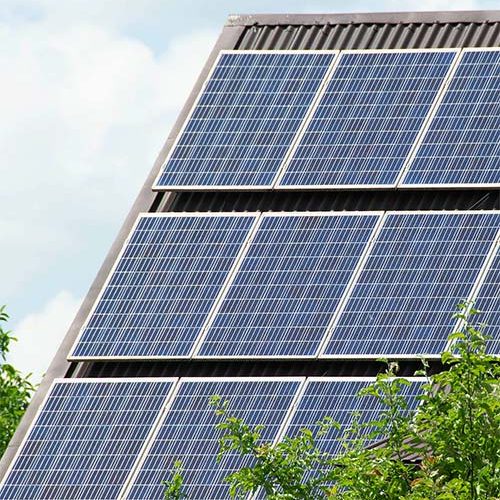 Solar PV installation near you
Solar panels are one of the most common ways in which both domestic and commercial clients are looking to generate sustainable energy. Not only do they look sleek and modern, but they also provide around-the-clock energy for homeowners and business owners alike in a way that's convenient and eco-friendly.
Despite common belief, solar panels are just as effective on cloudy days as they are when the sun is shining. This is because they store up their energy over a long period of time, allowing the user to go about their day as they would do should they have a conventional means of energy generation.
Solar panels offer both domestic and commercial clients a wide range of different benefits, from saving money on your energy bills to upgrading your property to suit these modern times, you'll only ever reap the rewards and advantages when you invest in solar panel installation in Nottingham, Derby, Leicester and many other towns and cities throughout the country.
Why choose CM Ward Ltd for solar panel installation?
We are proud to offer our clients a safe and effective solar panel installation service, ensuring that the process is carried out in a timely-yet-effective manner. We carry out our solar panel installations in Nottingham, Derby and Leicester, to name just a few locations we serve, with the utmost care and precision, working tirelessly to make sure that all of our quality parts and components are fitted meticulously every single time. In addition to that, we also have an impressive range of solar panel manufacturers and brands available for you to choose from, including:
Solis
Givenergy
Tesla
Solax
Solaredge
Plyontech
JA Solar
LG Solar
Jinko
Alpha ESS
ATESS
Fox ESS
Huawei
Qcells
Virdian
Canadian
As well as having a wide range of options for you to choose from, you'll have absolute peace of mind that you'll be receiving an excellent product of the most superior quality. We only use approved suppliers for all of the aforementioned brands and manufacturers, so you can rest assured that your solar panels will stand the test of time and deliver exceptional results for decades to come.
CM Ward Ltd are also pleased to provide an emergency call-out service. This means that in the unlikely event that you're experiencing any problems with your solar panels, a member of our professional, dedicated team will be on hand to help you, no matter the time of day or night, and all within just 1 hour. Not to mention, we also have many years' of experience in the industry, so you'll be in excellent hands when choosing CM Ward Ltd for solar panel installation near you.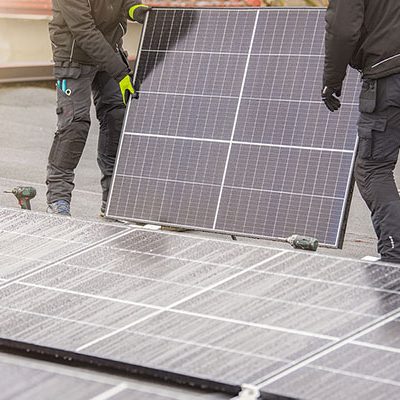 If you would like further information about our solar panel installation in Nottingham, Derby, Leicester and a variety of other locations across the UK, get in touch with a member of our highly-experienced, knowledgeable team of electricians today – we're always pleased to hear from you.